Kyocera Milano Review
4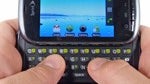 Introduction:
As Android continues to dominate the smartphone market manufacturers are no longer reserving the flexible OS for their high end devices. The Kyocera Milano is one such device, offering Android 2.3 Gingerbread on the cheap. The sliding QWERTY device skimps on the specs but makes up for it with good build quality and a top-notch keyboard. Included with the Milano you'll find a 2GB microSD card and microUSB cable/AC adapter combo.
Design:
Kyocera has stuck with the familiar side-slide design for the Milano which reminds us of Frank Reynolds…short and stout. It features just a 3" display with a paltry 240x320 resolution and just 262k colors. The screen quality is poor with fuzzy details and lack of depth. It is by far the worst feature of the phone, but unfortunately it is often the first thing you notice which instantly puts a bad taste in your mouth.

You can compare the Kyocera Milano with many other phones using our Size Visualization Tool.
Luckily sliding the Milano open reveals a surprisingly good
four row QWERTY keyboard
. The keys are slightly raised and textured, and spaced far enough apart that you're not hitting two at a time. With the Milano's smaller design you don't have to reach to access the middle of the keyboard, making texting comfortable and pleasant.
The
build quality
all around is quite good for a low end device. The spring-assisted slide mechanism is smooth and solid and we don't have any worries about it failing. The four physical navigation keys on the front as well as the volume rocker, power and camera buttons along the sides all offer a reassuring click when pressed. The battery door has a coating of soft touch paint giving it good grip.
Once you get past the poor display the Kyocera Milano isn't a half bad phone for what it is. The smaller form factor is more comfortable for the smaller hands the Milano is targeted at. The keyboard is nice to type on and the good build quality means it will hold up to everyday use.
Kyocera Milano 360-degrees View: