KitchenAid displays a splash-resistant smart display at CES that will appeal to chefs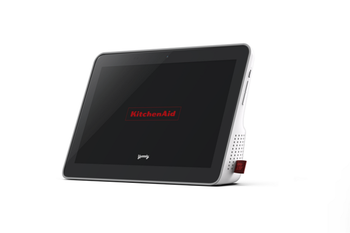 The 2019 Consumer Electronics Show (CES) is off and running, and many are expecting the Las Vegas Convention Center to be full of smart speakers and smart displays.
According to CNET
, one new smart display spotted at the trade show is made by Whirlpool owned KitchenAid. While not the first name you'd think of when it comes to tech devices, the company's smart display looks like it would be right at home in any kitchen.
The KitchenAid smart display features a 10-inch touchscreen and is equipped with
Google Assistant
. It also has IPX-5 water-resistance allowing the device to stand up to splashes that happen in a kitchen. Users will be able to watch recipes being prepared on YouTube, listen to streamed music while cooking, make video calls and more. Android Things, Google's operating system for smart home products, will be running the show.
The KitchenAid smart display will launch in the second half of this year, priced in the range of $200 to $300. If marketed right, this could be a big seller during the next holiday shopping season. And while KitchenAid will be going up against some tough competition, parent company Whirlpool owns an app called Yummly that will be available on the smart display. The app opens with a voice command and shows recommended recipes step-by-step. Yummly Pro streams video-based recipes hosted by celebrity chefs.