John Chen's fiscal 2015 compensation was down 96% (Spoiler Alert: he still made a fortune)
26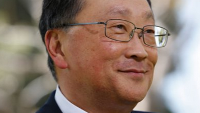 John Chen might have to make do with a diet of ramen noodles and crackers. BlackBerry's CEO took home $3.4 million during fiscal 2015, a sharp decline from the $85.8 million he pocketed the previous year. The 96% decline is somewhat misleading since most of Chen's 2014 compensation came from restricted stock that was awarded to him when he joined BlackBerry, and vests over five years.
Chen's actual salary in fiscal 2014 amounted to $1 million while in fiscal 2015, he received $1 million and $2.4 million in incentives. While BlackBerry has underperformed in the smartphone marketplace, the stock has outperformed both NASDAQ and the Toronto Stock Market where the shares are listed.
Over the weekend, talk surfaced once again that BlackBerry would be the target of an acquisition. This time,
Microsoft is the rumored suitor
, looking to pick up the Canadian manufacturer for $7 billion. That would represent a premium of 26% over the current price of the stock, which closed Friday at $10.48 a share.
Chen is a noted turn-around artist and was able to work his magic on software company Sybase, which was sold to SAP for $5.8 billion in 2010. Certainly the executive's end game is to sell BlackBerry for a large premium. The problem is that no one knows if the company has hit rock bottom. While
Chen talks about turning around hardware and making it profitable again
, the company's strength lately has been in software.
BlackBerry also announced a stock buyback last week. The company will buy as many as 12 million shares, or 2.6% of the company, over the next 12 months.
source:
WSJ