John Chen says that BlackBerry will make money on handsets once again
75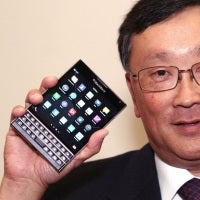 During its last publicly reported quarterly earnings announcement, BlackBerry said that it
sold only 1.6 million handsets during the three months
. To put that in comparison,
Apple rang up 61.2 million iPhones
during its last quarter. But BlackBerry CEO John Chen is far from defeated. Talking with
Business Insider
, the executive says that he will make the company's smartphone business profitable once more.
While Chen says that BlackBerry's secure network can make handsets from other manufacturers more secure, he adds that nothing is as secure as a BlackBerry handset running over the manufacturer's network. This seems to be the executive's reason for not exiting the handset business to concentrate on other aspects of the industry. As Chen puts it, "
"If you look at the US Army, they're still rolling out all BlackBerry. If I tell them there are no more phones, I lose that account. The question is how do you make phones profitable at the volume those people represent?"


While BlackBerry loses more of the consumer market to Apple and various Android manufacturers, it still continues to sell phones to governments and companies that require the strict security that BlackBerry provides. Chen still believes that he can build on BlackBerry's tiny share of the consumer market to help it grow profitable again in the smartphone sector. While the CEO isn't exactly talking about his strategy for doing this, it appears that he wants to continue focusing on the secure systems offered by BlackBerry, and the unique looking handsets it manufacturers.
Take the
BlackBerry Passport
.
BlackBerry promotes the wide 1440 x 1440 resolution 4.5-inch screen
, which makes reading spreadsheets and memos easier as users don't have to swipe from side to side. The physical QWERTY keyboard also works with virtual keys that change based on the context of what the user is writing. And with 3GB of RAM and a large 3450mAh battery, the Passport could be a wonderful handset for the businessman in the field. With BlackBerry Blend, users can view the content of their phone on a desktop computer in their office.
There still is obviously a market for BlackBerry's secure handsets among governments, law-enforcement agencies and corporations. Making a device to satisfy those buyers and consumers is the holy grail for BlackBerry. The Passport just was not quite as strong on the consumer side of the equation, although it was a lot closer than past models. Chen needs to develop a handset that will allow consumers to use the phone for all of the same reasons that they love their iOS or Android handsets, but at the same time, offer the little goodies and piece of mind that makes BlackBerry a name to still be reckoned with in the boardroom.
Meanwhile, software has been one of the few segments of the company's business that has been growing. Check out comments made by Chen last March after the release of BlackBerry's most recent earnings report by clicking on the video below.
source:
BusinessInsider