Italian carrier tweets Nokia Lumia 920 is coming November 12
17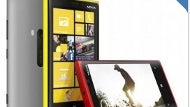 The Italian carrier TIM put a release date on the Nokia Lumia 920, and it is November 12. The price is just as the
sold-out preorders went
, EUR 599, which translates to $774 SIM-free.
In the US the price in Euros usually becomes one in dollars, as far as electronics are concerned, so we are likely to see it here around the $600 SIM-free, which is inline with the typical flagship smartphone pricing when not on a contract.
In any case, things are shaping up for Windows Phone 8 - the grand unveiling with a few new features thrown in, is expected Monday, and phones are to hit shelves a week or two later. We will be blogging the WP8 event, so tune back in on Monday for more info.