Is RIM's stock in play as a takeover target?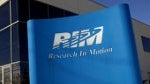 While brokerage house analysts were skeptical, RIM's stock (Nasdaq symbol: RIMM) had a nice move upward on Tuesday and Wednesday as the company was the subject of takeover rumors. The stock rose a total of 12% over those two days and outside of introducing the BlackBerry Bold 9780 as we
reported
, there was no corporate news.
On Thursday, the stock was downgraded by Oppenheimer after the brokerage house said a bid for RIM was unlikely and that the company needed to address the competitive challenges it faces. According to Kaufman Brothers analyst Shaw Wu, the possible suitors for RIM were said to include Cisco Systems-the most likely due to its focus on enterprise and infrastructure, Microsoft and Oracle. Wu feels that RIM would go for $40 to $50 billion which works out to a price range of $74 to $92, quite a distance from the current $55 stock price. But the analyst believes that Canadian authorities would never allow one of its top tech companies and an iconic Canadian firm, to be bought out.
source:
Barrons