BlackBerry Bold 9780 is official with T-Mobile for $129.99 starting November 12th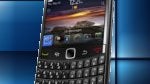 And just like that, we finally now have an official date and pricing for T-Mobile customers who are eagerly awaiting to check out the latest offering from RIM's camp. The BlackBerry Bold 9780 will begin to go on sale starting on November 12th for the very happy price of $129.99 with a 2-year agreement.
Customers won't have to wait long, especially when previous
reports hinted to a November 17th launch date
, to get their hands on this BlackBerry OS 6 powered smartphone. In addition, the rest of the world will also be getting in with the handset next month as well. Following up after the popular BlackBerry Bold 9700, the Bold 9780 features some updated hardware under the hood – like 512MB of RAM and a 5-megapixel auto-focus camera.
Naturally, the biggest thing expected out of it is that customers will have the opportunity of using BlackBerry OS 6 on a non-touchscreen device for the very first time. And with its $129.99 on-contract price, there are probably a lot of people extremely glad to see it sport a competitive price out of the gate.
source:
RIM
& T-Mobile
Recommended Stories