Is Best Buy also getting into the tablet market with an Android powered one?
1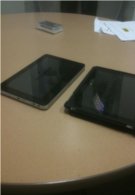 Best Buy isn't a stranger when it comes down to producing, marketing, and selling their own consumer electronics devices under various brand names – such as Geek Squad, Insignia, Dynex, and Rocketfish. The latter of which is being looked at more intently after Geek Squad's founder and head honcho, Robert Stephens, posted a couple of photos on his Twitter account regarding a prototype tablet. Although it's not powered on in the photos, it's believed to be only a shell right now, but it is speculated to be launched with the Rocketfish branding – which will bring the consumer electronics giant into the tablet market. So far, the device in question looks eerily similar to the now defunct HP Slate which was going to be a Windows 7 tablet, but this Rocketfish branded one could sport the Android flare with a front-facing camera – something Stephens hinted on previous Twitter posts. If there is any indication, pricing for this device should prove to be quite competitive since Best Buy will be charge of every aspect of this device. We'll have to hold our breath and wait to see if this indeed does come to fruition. Most recently, we've seen Best Buy encroach in some businesses that some traditionally wouldn't consider them to be in – such as their own
branded mobile broadband service via Best Buy Connect
.
via
The NY Times