Best Buy is launching its own wireless broadband service - Best Buy Connect?
8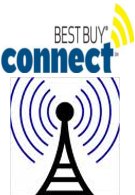 Call it crazy or something, but consumer electronics giant Best Buy is looking to jump into the wireless industry by offering their own branded high-speed mobile broadband service. One of our anonymous tipsters managed to pass on some information regarding Best Buy's intentions of launching its own wireless data service much like how the major carriers offer their own. Being dubbed as Best Buy Connect, the service would be provided by Best Buy and offer customers a total of 7 different plan options to fit the specific needs of each customer. From what we're being told, there will be a Dell netbook which will support the Best Buy Connect service when it's first launched. We'd assume that additional ones will be offered down the pipelines – all of them would probably pack on a built-in 3G modem that would work with the service; much like how the current selection of netbooks are sold through carrier stores.
On top of offering a no-contract option, there will also provide1-year and 2-year contracted plans. We've seen how AT&T decided to ditch "unlimited data" plans from their arsenal, but everyone knows that it essentially means having a maximum cap of 5GB per month. For the no-contract option, there will be three plans to side with – $29.99 per month for a 250MB plan, $39.99 for 500MB, and $59.99 for a 5GB cap. Interestingly enough, the prices are the same for both the 1-year and 2-year contract options with monthly pricing being exact except for the omission of the 250MB plan. Finally, there are early termination fees applied to both contracted plans – $175 for the 2-year and $125 for the 1-year, but there is none obviously for the no-contract route. It's speculated that Best Buy Connect will run off of Sprint's network – which is evident seeing the pricing they offer closely matches the carrier. It'll be interesting to see how this takes off, especially when a retailer decides to take the plunge into the wireless market on their own. Do we hear cell phones down the road?
Thanks to our anonymous tipster!!