Intel officially announces its 5G smartphone modem, first appearance expected in 2020
3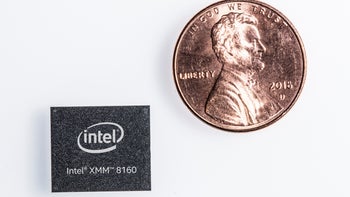 5G is slowly gaining momentum as both sides of the connection – network operators and phone manufacturers are working on their solutions to bring us those promised blazing fast speeds. To show that it's making progress,
Intel announced the Intel XMM 8160 5G modem
. Qualcomm, Intel's biggest competitor on the smartphone chip market,
announced its own 5G modem more than 2 years ago
, but we won't see it in consumer products until early next year, when the first
5G capable smartphones are expected to hit the market
.
It's not surprising then that Intel's roadmap isn't any shorter. The company says that the new chips will be available to phone manufacturers in the second half of 2019 and expects that the first devices with them will be on the market early 2020. And that is only after Intel "accelerated the timing of this modem by pulling in the launch by more than a half-year".
So, what is Intel bringing to the table after taking so much longer to develop its 5G modem? The first thing that stands out is that Intel offers an all-in-one solution when it comes to modems. The XMM 8160 will take care not only for the 5G connectivity, but also older standards: 4G, 3G and even 2G. This, Intel adds with a sly smile, we imagine, differs from "...the two separate modems for 5G and legacy connectivity, as will be introduced in early competing 5G modems."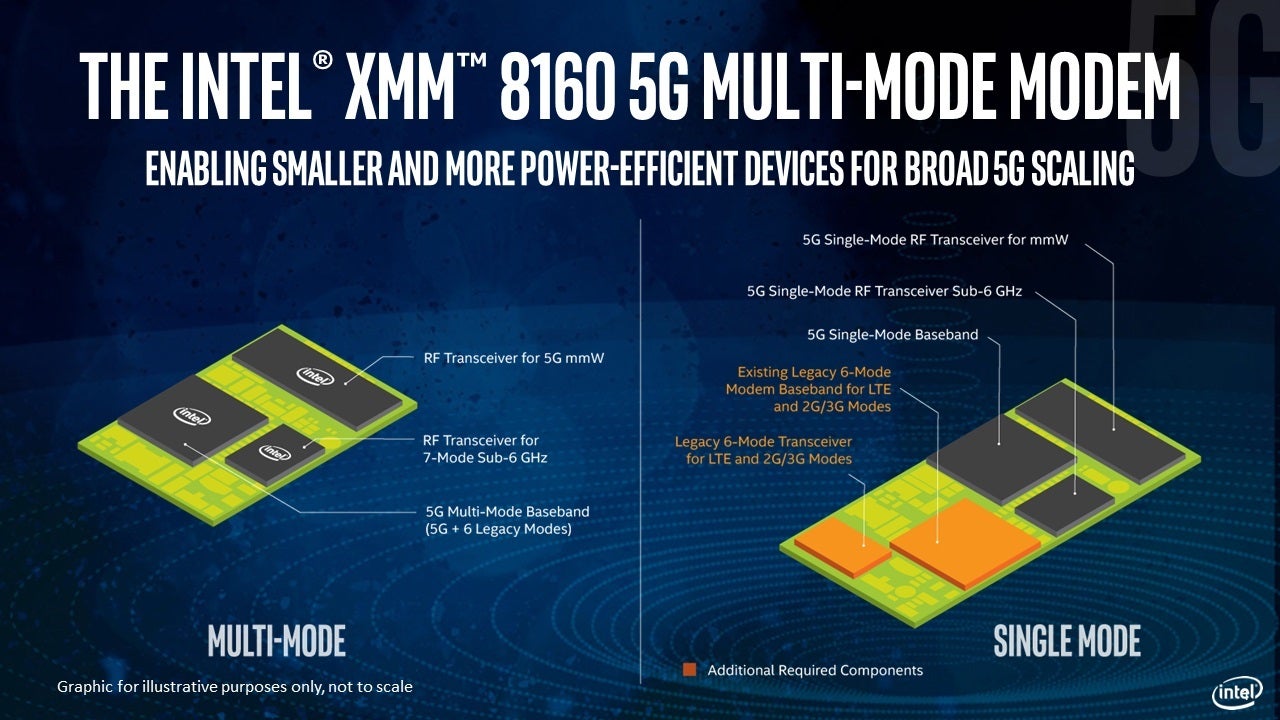 You don't have to be an engineer to know that fewer rectangles is better
The single chip will allow for smaller circuit boards, which for smartphones would likely mean more space for batteries, but it will also allow other, smaller smart devices to have 5G connectivity. This is important since one of the biggest advantages of 5G is expected to be the improvements it will bring to the world of Internet-of-things.
Besides compactness, Intel's 5G modem will bring "peak speeds up to 6 gigabits per second, making it three to six times faster than the latest LTE modems available today". The chip will support all the necessary bands, from the 600 MHz - 6 GHz range to the so called mmWave frequencies that start from 24 GHz.
Intel's plans for 5G seem to coincide with the rumors that
Apple will introduce the first 5G capable iPhones in 2020
. As a reminder, Intel recently became
Apple's sole supplier of modems
for the 2018 iPhones, which makes Apple reliant on Intel's technology for the time being.