If you can find it in a Best Buy store, the HTC Flyer is now $99
14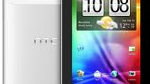 UPDATE
:
No sooner had the ink dried on this story than Best Buy revealed that the $99 pricing is a mistake and the HTC Flyer is $299 as per the previous price cut announcement (see image below)
Just 5 days after
cutting the price of the HTC Flyer to $299 from $499
,
Best Buy is taking another $200 off the 7 inch tablet
bringing the price down to a stunning $99. By doing this, Best Buy undercuts the upcoming Amazon Kindle Fire
which is being launched November 15th for $199.99
and has amassed pre-orders of 250,000 after 5 days.
According to the Best Buy web site,
the unit cannot be ordered online as it is sold out at the moment
. A link on the page allows you to check Best Buy stores for inventory.
The HTC Flyer offers HTC's Scribe Technology which lets you use a special stylus to write notes, draw pictures and even just scribble all over the screen. A single-core 1,5GHz Qualcomm Snapdragon processor is under the hood with a 5MP camera on back capturing video in 720p at 30fps. A 1.3MP front-facing camera lets you take self-portraits and video chat. 1GB of RAM is on board and the Best Buy web site shows 16GB of native storage on the tablet.
Announced by Amazon the other day,
the Kindle Fire has captured the imagination of those who want to pay less for a tablet
. Some analysts believe
that the tablet will surpass the sales total of the Apple iPad
even though it relies heavily on the cloud for content and storage. Amazon is selling the tablet for less than cost,
expecting to make back more than the difference by selling apps, content and cloud based services
. However, a $99 priced HTC Flyer might prove to be too much competition as Best Buy tries to extinguish the Fire.
source:
BestBuy
via
AndroidCentral
(
1)
(
2
)