Updated info suggests that the Amazon Kindle Fire could outsell the Apple iPad
7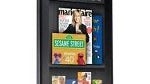 Just yesterday, we reported that information showed
that Amazon had 95,000 Amazon Kindle Fire tablets reserved after the first day
that the online retailer started to accept pre-orders. Now,
Cult of Mac
says it has obtained a screenshot of Amazon's inventory management system that uses the acronym ALASKA (Availability Lookup and SKU Aggregator) from a verified source.
According to the data,
Amazon has been reserving 2,000 Kindle Fire units each hour
which works out to more than 50,000 daily. Thus, in the five days since the tablet has been open for pre-orders, 250,000 tablets have been reserved. If this trend continues, Amazon will have 2.5 million tablets "sold" prior to its launch on November 15th which would make
the Amazon Kindle Fire the fastest selling tablet in history
, outpacing both the Apple iPad and the Apple iPad 2 in first month sales totals.
Even though the 7 inch Amazon Kindle Fire is on, ahem, fire, the Amazon Kindle Touch is not doing as well. The 6 inch
Kindle Touch is being outsold by the Kindle Fire at a rate of 10 to 1
despite selling for $100 less than the latter device. So far, the Amazon Kindle Touch has racked up 20,000 pre-orders while the Kindle Touch 3G has 12,000 units reserved at $149.
source:
CultofMac
via
Mashable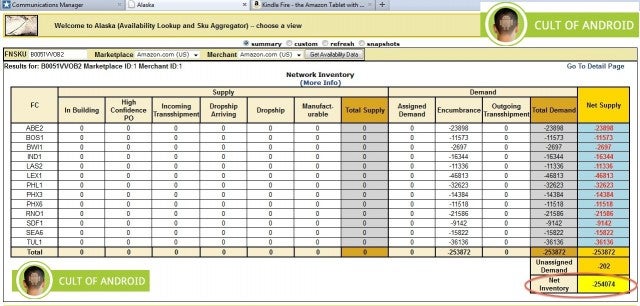 Leaked screenshot of Amazon's inventory reading for the Amazon Kindle Fire