If iPhone gets NFC, Google ports Wallet
5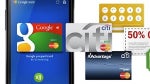 Google Wallet
seems like a significant step forward towards NFC adoption, but until now, the service was expected to work only on devices running Android – the Google-backed mobile OS. However, it must have been clear to the Mountain View-based company that without Wallet being accessible on as many handsets on the market as possible, it would have a bumpy road ahead of it.
Probably because of that, at the Cannes Lions ad festival this Wednesday, Google ex-CEO Eric Schmidt confirmed that if the next iPhone has an NFC chip inside of it, the search giant will do its best to make the service usable on Apple's finest as well.
Until now though, we've seen some rumors claim that the
next iPhone will have NFC
, as well as such that state
exactly the opposite
, so whether or not near-field communications are coming to the handset is still anybody's guess. Unfortunately, when we're going to know for sure is also an unknown, since unofficial sources are just as inconsistent when it comes to the
eventual iPhone 5 release date
.
via:
Electronista