ICS rollout for Sony Tablet P will start May 24th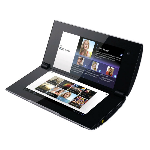 The best news an Android owner can hear right now is not just that an Ice Cream Sandwich update is planned for their device, which carriers and manufacturers seem to think is enough, but that there is an actual date scheduled for the release of that update. It's all well and good that Samsung announced it is working on updates for certain
T-Mobile
Android models, but if users don't know when to expect the update, it might as well not exist.
Of course, announcing an update and not coming through with it is pretty bad too, and that's what Sony had done. Sony had said that the ICS update for both the Tablet S and Tablet P would be coming at the end of April, and that's what happened with the
Tablet S
, but Sony missed the mark with the Tablet P. The plan has been redrawn and now Sony is claiming that the Tablet P will get its ICS update starting on May 24th.
The update will add the same extra features as with the Tablet S update, most notably the "Small Apps" feature, which allows for instances of a browser window, calculator or remote control to run on top of supported apps. Very limited windowed multitasking, basically. Anyway, just another week and the ICS rollout should begin. Sony did release the international update at the same time as the Japanese update for the Tablet S, so we're expecting the same here.