Huawei storms the market with four Android handsets
1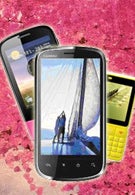 Quite a few manufacturers are developing
Android-based handsets
and
MWC 2010
is certainly one of the places, where most of them will be introduced. Having already seen Sony Ericsson
announce two cell phones
running the operating system, it´s now turn for
Huawei
to grip our attention, because the company has just come up with no less but four cell phones and one tablet.
It seems the most intriguing of them is the
U8800
that features 3.8-inch display and runs Android version 2.1. This is the first similar smartphone to support HSPA+, meaning file download speeds of 14 Mb/s (if the network allows for it, of course).
The extravagantly looking
Huawei U8300
is designed for young people, who love social networking and cannot stay away from services like Facebook and Twitter. The full QWERTY keyboard it´s equipped with appears perfect for extensive text messaging. Finally, the handset will roll out in several fresh color schemes - yellow, green and violet.
The
Huawei U8100
and
U8110
are aimed at people getting along on a shoestring. They integrate 2.8-inch screens with QVGA resolution, 3.2-megapixel cameras, Wi-Fi and Bluetooth. Similarly to the U8300, they both sport quite pleasing, youthful design. The Huawei U8100 and U8110 are expected to hit the shelves across Europe in Q2, 2010.
The tablet
SmartKit S7
is quite an interesting device with 7-inch WVGA display that will be able to connect to various sources of information. Judging by the image, you will be able to use it for calls (there are design elements that resemble send and end keys), most probably via VoIP.
The information on Huawei´s latest devices is still rather sketchy at best, but we will do our level best to find out more and share our impressions with you as soon as possible.
source:
Huawei
Check

here for our complete coverage of the Mobile World Congress!