Sony Ericsson introduces the Vivaz pro, Xperia X10 mini and Xperia X10 mini pro
5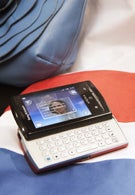 At an event taking place in Barcelona, just before the start of the
MWC 2010
, Sony Ericsson made quite an impressing show. First off, the company revealed its strategy for the future. It looks like the GreenHeart series will continue to grow. The president of the company said that all their devices in 2011 will be made with ecology in mind. Congratulations to the manufacturer!
Sony Ericsson also showed its design ideas, which we have already seen in some products - smooth curves, inspired by the human body that fit perfectly into the hand. The advantages of the UXP interface also got described. We have seen this one in the
Sony Ericsson Xperia X10
.
Enough about the ideas. What matters is how they get integrated in real devices. Well, the new phones by Sony Ericsson are truly intriguing. Here they come, the
Vivaz pro
,
Xperia X10 mini
and
Xperia X10 mini pro
.
First is the Sony Ericsson Vivaz pro. You might be already guessing that it will be more oriented towards business, packing a slide-out four-row QWERTY keyboard. The impressive part is the keyboard has only added 2 millimeters to the thickness of the device. The other difference with Vivaz is that the new model sports a 5MP camera, as opposed to 8MP, but the ability to capture 720p HD video is still there. The rest of the specs are identical - 3.2-inch screen, GPS, Wi-Fi and HSDPA support.
The Sony Ericsson Xperia X10 mini and Xperia X10 mini pro look very promising. These are smaller versions of the Sony Ericsson Xperia X10 - the first Android phone by the company, which will come out in March. The two handsets are sharing the same characteristics, but the mini pro has a four-row QWERTY keyboard. So, you can expect the smallest Android devices, equipped with 2.55" screens with QVGA resolution, 5MP cameras, GPS, Wi-Fi and 3G. They will work with Android 1.6 and the personalized interface by Sony Ericsson, called UX. The interface itself will be tweaked in order to be more comfortable for one-handed use - in the four corners of the screen there will be icons leading to different functions, while the rest of the elements will be as big as possible. The phones will have access to both the Android Market and the Play Now portal. Both devices will be offered in several colors - black, yellow, white, pink and red.
The Sony Ericsson Vivaz pro, Xperia X10 mini and Xperia X10 mini pro will be released in the second quarter. Information about their prices is still unavailable.
Sony Ericsson Vivaz pro Specifications
Sony Ericsson Xperia X10 mini Specifications
Sony Ericsson Xperia X10 mini pro Specifications
Check

here for our complete coverage of the Mobile World Congress!