Huawei Pay to expand outside of China thanks to a deal with UnionPay
1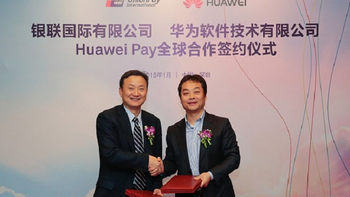 After launching in China back in 2016, Huawei Pay is expanding internationally. Last weekend, Huawei announced a deal with UnionPay that will allow the mobile payment service to be employed outside China. This deal will allow users of Huawei and Honor smartphones to keep UnionPay bank cards in an e-wallet, and then use one to pay for a transaction. Union Pay, which is the largest financial services company in China, joined with Huawei to create Huawei Pay two years ago.
When checking out at a retail store, Huawei Pay can be used in a with a POS system that supports UnionPay mobile QuickPass. So far, Huawei Pay works with 66 banks and 20 different smart devices including smartphones and some smartwatches. With the international rollout, the number of transactions using Huawei Pay is expected to grow sharply. Last year, the feature was used to ring up 4 billion RMB worth of transactions ($653.3 million USD) in China.
"Open sharing is an important direction for the future of the digital economy and intellectual interconnection, which is why Huawei's end-user cloud services built an open and globalized smart mobile ecosystem for the end-user experience. Huawei hopes to work with partners such as UnionPay International to provide more secure and convenient mobile payment services for every user of Huawei smart devices around the world."-Alex Zhang, President, Huawei Consumer Cloud Service
With UnionPay cards accepted at 85% of POS and ATM terminals in Russia, that country will be the first outside China to allow Huawei Pay as a way to settle a transaction. 1.3 million UnionPay cards have been issued by 10 Russian banks. Other countries in Eastern Europe are expected to join Russia in allowing the use of Huawei Pay for quick check outs at stores that will support the service.
source: Huawei