Huawei P30 Pro now comes in two new colors and they look very classy (hands-on)
49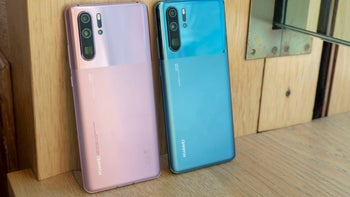 The Huawei P30 Pro is getting two brand new colors that look very stylish and refined: it calls them Misty Lavender and Mystic Blue, but marketing talk aside these are a gorgeous pink version and a very nice, light blue color.
The new models feature a two-tone finish with a reflective, glass-like surface on the top third of the phone, while the bottom two thirds of the phone come treated with a frosted, matte finish. We have seen phones with a similar two-tone finish in the past (hello, OG Google Pixel), but this one is a bit different, it feels original and gives the devices a distinct character and makes them easy to tell apart from the traditional P30 Pro colors.
Misty Lavender and Mystic Blue
The matte finish on the bottom part feels particularly nice to the touch, with a smooth feel, and it has the added benefit of dealing better with fingerprint smudges that are far less noticeable here. The two colors are not as flashy as other finishes and instead have this almost pastel tonality to them. They are definitely very elegant and look classy.
Another nice little detail is that the metal sides of the phones are also matching the main color.
The new colors will also arrive with the newest EMUI version 10 on top of the Android 10, which is a nice extra. The currently available P30 Pro models run on EMUI 9.1 and will get EMUI 10 as an update. Apart from that, there are no further changes to these versions: they feature the same Kirin 980 chip, the same camera setup with the periscope zoom camera, and the same awesome long-lasting battery.