Huawei's Mate 20 teasers continue; this time in physical stores
2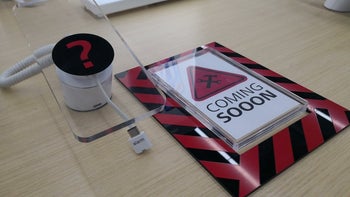 It's no secret that Huawei's
Mate 20
series is just around the corner – the Chinese company has been relentlessly teasing the devices on social media lately. But as part of its next step ahead of their official announcements, Huawei has now begun teasing the smartphones in physical stores across Europe.
Set up alongside other Huawei-branded devices inside stores, the company has fitted a small slab of glass with rounded corners to its presentation section. It's unclear if this piece of glass is representative of the size of the upcoming Mate 20 or
Mate 20 Pro
, but when compared to the
P20 Pro
, it does appear to fall in line with the expected dimensions.
As is typical in these stores, smartphones are usually accompanied by a small summary of the specs and features towards the right. However, as this smartphone is yet to be announced,
Huawei
has fitted the section with a promotional poster complete with a construction logo and the words "Coming Sooon," which appears to be a subtle hint at the upcoming rear triple-camera setup.