Huawei M835 Tokidoki edition hands-on
4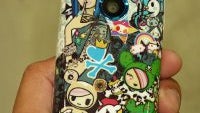 Splashing some flare to an existing handset, the
Huawei M835 Tokidoki edition
smartphone manages to turn some heads with its artistic looking back design that's following accordingly to the popular Japanese-inspired lifestyle brand created back in 2005 by Italian artist Simone Legno.
For those who aren't familiar with the
Huawei M835
, it's an entry-level Android 2.2 Froyo powered smartphone that presents us with the usual features of Android, but don't expect much with this one besides the nice looking artsy back cover. In fact, it's essentially the
T-Mobile Comet that we reviewed back last year
. Specifically, it features a 2.8" QVGA display, 3.2-megapixel camera, 1,200 mAh battery, Bluetooth 2.1, Wi-Fi, microSD card slot, and a stock Froyo experience.
With the Tokidoki edition, other elements that differentiate it from the standard model are the
blue accents
found with the earpiece, camera lens, and directional keypad. Furthermore, it's preloaded with various Tokidoki inspired apps and wallpapers to further enhance its artsy appeal. Surprisingly, the device feels considerably better in build quality with its glossy, yet tough plastic shell. Compared to the T-Mobile Comet, the Huawei M835 Tokidoki edition is vastly better in overall build quality.
Still, there's no exact confirmation as to when the Tokidoki edition will become available – though, it was officially introduced yesterday at the New York City Comic-Con event. However, the standard version of the M835 retails for a mere
$80
, which is alright considering its no-contract status.