How to enable Developer Options and USB Debugging on the Samsung Galaxy S5
10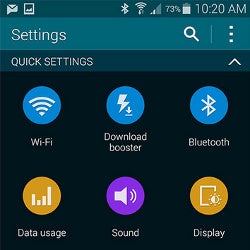 Samsung debuted the Galaxy S5 with a brand new TouchWiz user interface, and since its arrival, all new Samsung phones and tablets this year come with the new looks. The new, 2014 edition of TouchWiz comes in a full-on version for flagship-class phones and tablets, and a lighter one for more affordable gadgets, but they both share a brand new settings menu with colorful icons.
It looks cheerful at first, but just try navigating around it - you instantly feel you're in a maze of options and settings, and you just can't find your way. We've seen experienced Android geeks complain about the steep learning curve, so that's why you might need some help.
Onething you might want to do with your device (if you tinker with it a lot) is to enable Developer Options and USB Debugging. We're walking you through the process of first turning Developer Options on, and then enabling USB Debugging right below - take a look.
Note that this how-to tutorial guide will also work with all devices sporting the new 2014 Samsung TouchWiz UX, phones like the Galaxy S5 mini, and tablets like the Samsung Galaxy Tab S 10.5 and Tab S 8.4.