Here's proof that there are iPhones in heaven; Joan Rivers says she just bought one
44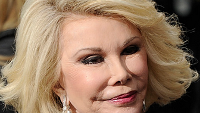 There are some smartphone fanatics who are really worried about death. Even if there is life after death, suppose there are no smartphones in heaven? But one of life's greatest mysteries might have been solved today, and yes, it involves the new
Apple iPhone 6
. It seems that a message on the Facebook page of the late Joan Rivers revealed (in first person narrative) her purchase of a new Apple iPhone 6. Is there subsidized pricing in heaven? The post was a paid ad for Apple's new models,
which were launched earlier today
.
The post by Joan Rivers was also published on Instagram as a paid ad, part of the social networking apps monetizing initiative. This might not be much of a marketing disaster for Apple. In fact, there is talk that we could see a new model out of Cupertino called the Apple iPhone 6 feet under. Seriously though, Rivers had agreed to do the ad before she passed away, and apparently someone didn't receive a memo that they were supposed to get.
Rivers died from a cardiac arrest that occurred while the comic was undergoing vocal cord surgery. There is speculation that a biopsy was performed that she did not consent to, which led to her demise. In addition, her Doctor has been accused of taking a selfie with her while she was unconscious after the operation, which he has denied.
As you might imagine, the ad has been removed from all social networks and messaging boards.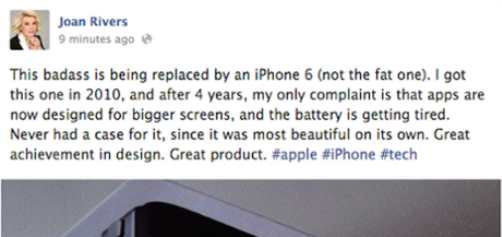 Yes, there are iPhones in heaven
source:
JoanRivers
via
TheGuardian