Here are the best Android widgets of 2015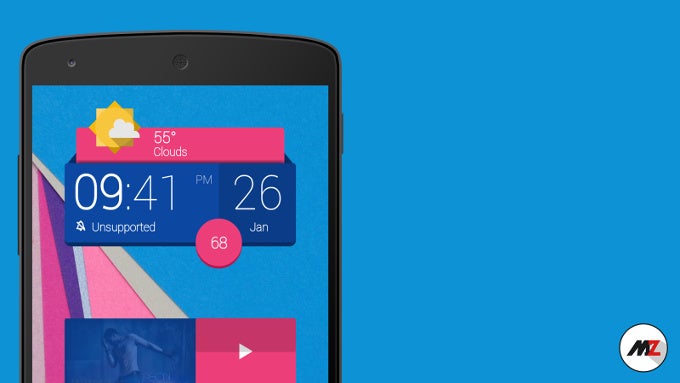 Roughly a year ago, we
kicked off
a brand new bi-weekly column, which is catering the best Android widgets to you on a regular basis. Here it is for the curious ones. Every two weeks or so, we show the ones that attracted our attention and should probably do the same with yours.
As you are well-aware, the end of 2015 is fast approaching. We've went through an awful lot of widgets during the past 12 months, the majority of which were so we feel like we can safely summarize it and present to you the best ones we've stumbled upon.
It's no secret that employing a widget on your Android device and giving a boost to your interface is as easy as 1-2-3. Without further ado, scroll below and we will show you a couple of widgets that we feel are among the best ones of 2015. In case you want to explore some additional ones that appeared in 2015, check out our timeline right beneath the last gallery in this post.
KWGT Kustom Widget Maker
have you heard of KLWP, the noteworthy live wallpaper maker? The developer behind it just released KWGT, an awesome new app that allows you to create a custom widget for your home screen. It's similar to Zooper Widget regarding the functionality it offers - an unprecedented control and quite the control over the widgets you can create. Thanks to the WYSIWYG (what-you-see-is-what-you-get) editor, you can now create your dream widget in a jiffy. However, be warned that the app comes with a steep-ish learning curve.
Matte Zoopers
Looking for a Material Design widget to complement your new Lollipop-inspired home screen setup? Look no further than Matte for Zooper Widget. This skin quite appealing, and it's obvious that it will match quite well with any theme that is revolving around Material Design.
Retro Widgets
This one requires you to have Zooper Widget installed. Retro widgets, as the name suggests, offer a handful of sophisticated vintage-looking widgets for your home screen that will truly improve the looks of your desktop.
Vinty Widgets for Zooper Widget

Enter Vinty Widgets, a collection of 51 different skins for Zooper Widget Pro that go rather well with Vinty Icon Pack. The widgets on board include four digital clocks that also display the date, the battery level, as well as general weather info. Each of these is available in eleven different variations. That's not all, mind you - there are also two search widgets, four weather widgets, and two battery widgets.





Simple Circular Weather Widget

This nice-looking theme is intended for GO Weather EX, a weather-based widget that has attained a fair amount of popularity. It comes with a handful of layout grids (4x1, 4x2, 4x3). It is available as an in-app purchase within GO Weather EX.





Theme UX 4.0
This skin for Zooper Widget allows emulates the looks of the LG G4's interface. And it emulates it quite well, we might add. Well, in case you like the way LG's home screen looks straight out of the box, this widget might just be the right one for you.
Glam

By now, you probably have seen your fair share of skins for Zooper Widget, as these are usually aplenty and we like them very much. Glam is no different as it meets both criteria - it's a skin for Zooper Widget that A spectacular free suite for Zooper Widget that definitely deserves attention if you are into good-looking home screen setups.





Geometry for Zooper Widget Pro
This is a collection of quite appealing weather & clock widgets for Zooper Widget Pro that pack a potent Material Design vibe. There are 74 skins inside this pack, as well as 13 different icon sets.