Here are six more paid iOS apps that won't cost you a dime right now
9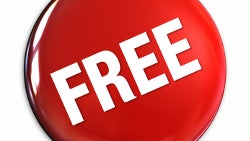 Once again, we have a number of paid iOS apps that you can install on your Apple iPhone or Apple iPad without having to reach for your wallet. Since these apps won't be free forever, if you see one that you want, you should take it now. The last thing you want to do is to wait so long before installing a free app, that it ends up costing you money to purchase it. And if it is an app that you can really use, getting it for free is even more satisfying.
This batch of freebies includes a trainer for your brain (Next-Numbers), an app that makes sure that you have the right plug for your phone while traveling abroad (Plugs of the World), and one that helps you figure out which hotels Priceline and other sites are running an opaque deal on (EXP Deals Hotel).
Go through the list right now. Hopefully there are at least one or two freebies that you can use right now. Good luck!
source:
BGR