Hands-on with the Acer beTouch E200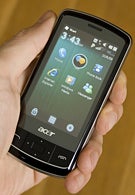 After we got to know the first four Acer handsets (
DX900
,
X960
,
F900
and
M900
), we are now eyeing the next four, namely the newTouch, beTouch E100, beTouch E101 and the beTouch E200, which are official now. We will begin our new Acer-land journey by taking a close look at the
beTouch E200
slider (formerly known under the L1 codename).
Similarly to the other new smartphones from the manufacturer, the Acer beTouch E200 is running on Microsoft's just-hatched
Windows Mobile 6.5 Professional
operating system. In unison with the OS on board, the handset has a stylish design, with clean lines and conservative color scheme.
The Acer beTouch E200 managed to impress us right from the start with its
high build quality
. The manufacturer has utilized quality materials and this can be easily felt when holding the phone – it is quite heavy for its dimensions. So, when it comes to design and overall build quality, the Acer beTouch E200 is a top-class phone.
Things aren't so bright however when you start cruising around the
interface
. Acer has personalized the homescreen appearance by getting rid of the standard WM6.5 today screen and adding a 3x3 grid that can be filled with shortcuts of your own liking. It is actually pretty simple and easy to use, but what we found quite annoying was the lag we experienced at times when trying to do basic things such as scrolling through the main menu or opening the phonebook. Still, we would rather leave our final judgment for our full review, which will pop up on phoneArena.com before you have said "Acer beTouch E200".