Acer M900 Review
1


Introduction:
One of the major laptop manufacturers, Acer, entered the cell phone market with quite a canny move – taking over a company that already has enough experience in the field, namely Eten.
The manufacturer introduced the Tempo lineup back at MWC 2009 that currently comprises a total of four Windows Mobile smartphones. Three of them utilize a new interface, called Acer Shell, made by the company itself. In this review we are about to take a closer look at the
Acer M900
. It´s a high-end, business oriented device that sports QWERTY keyboard, 5-megapixel camera, 3.8-inch display and a
function that´s quite rare to see on cell phones – fingerprint reader protection
. The sensor itself is clearly visible below the display, right between the button that starts the GPS and the key that gets you back to the home screen. Well, its look somewhat spoils the modern design of the phone, but is otherwise handy and you won´t have a problem using it even while holding the Acer M900 in one hand. We will tell you more about it later in this review, now let´s get down to the other elements of the design.
Design:
With its 6.63 oz. (188 gr.), an honorable place in the heavyweight category is certainly well earned for the M900 and the phone is definitely not comfy to carry around in your pocket. Thankfully, a leather case comes in the box. The handset
display
measures 3.8 inches, comes with resolution of 480x800 pixels and utilizes resistive technology (more about the different screen technologies can be found
here
). Unfortunately, it´s a bad performer in direct sunlight, because intense light turns it into a flawless, totally useable mirror, plus, it just loves fingerprints.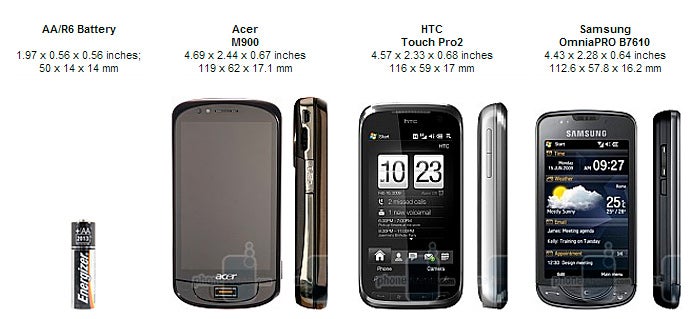 You can compare the Acer M900 with many other phones using our Size Visualization Tool.
The microSD slot and a three-way rocker wheel to control volume are on the
left hand side
. We really like the volume rocker, because turning sound up and down during talks feels easy. On the
right
hand side of the phone you have a compartment for the telescopic stylus, camera shutter, restart button, voice command and power on/off keys - we have to say we didn't have any problems with any of them.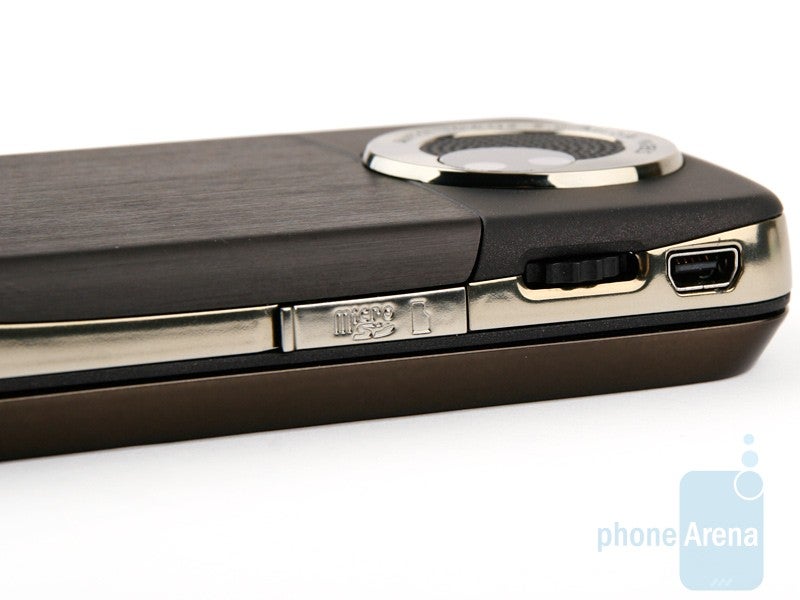 Left side
The slider is easy to open or close. Most keyboard
buttons
are large and have enough travel. Still, we happen to have a gripe or two. The "space" button is located way too close to the edge, which makes it unhandy and you have to press the "Fn" button every time you need to enter commas or full-stops. As a whole, the keyboard is below par when compared to the best we have used (the
HTC Touch Pro2
,
T-Mobile G1
,
Nokia E75
), but still, it's usable for texting.
Acer M900 360 Degrees View: