Acer F900 Review
2

This is a global GSM phone. It can be used with AT&T and T-Mobile USA.

Introduction:
Since the beginning of written history, there have always been people or entities trying to conquer the world and smartphones make for a genuine "threat". A growing number of surveys indicate that smartphones are becoming increasingly widespread and the trend is to accelerate in the coming years. In this train of thought, it can be expected that manufacturers that haven't come up with their own smart devices yet will try luck. Acer makes for an illustrative example. Their Windows Mobile handsets didn't take long to roll out after the company took over Eten and now the rumor has it that Android-based cell phones are to follow soon.
Acer´s smartphone range includes four devices as of now, with the F900 being one of the most technologically advanced of them. It´s equipped with 3.8-inch WVGA screen and personalized Acer Shell running on
Windows Mobile 6.1 Professional
. What is in the box?
• Textile case
• Earphones
• USB cable
• Wall charger
• 2 software CDs
• Screen protector
• Extra stylus
• User manual
Design:
The
Acer F900
is bulky. Come to sheer size, even Notorious B.I.G. and Bizarre can´t hold a candle to the Acer´s heavyweight champion. Speaking of the former two, we think Notorious the movie is shaking on full screen and we do recommend that you shell out a few bucks and go see it. Erm, what we mean is "normal" theaters with even larger screens than the F900, which also features an impressive
display
that measures 3.8 inches and comes with resolution of 480x800 pixels. It has really good sensitivity for a Windows Mobile device and we didn't encounter any issues with it. Image quality is less striking, because colors don't gradate smoothly, due to the limited color support - 65k and what´s even worse, direct sunlight turns it into a flawless mirror. That´s how we, your humble reviewers, found out we in desperate need of a shave, although the phone failed to deliver any other useful information.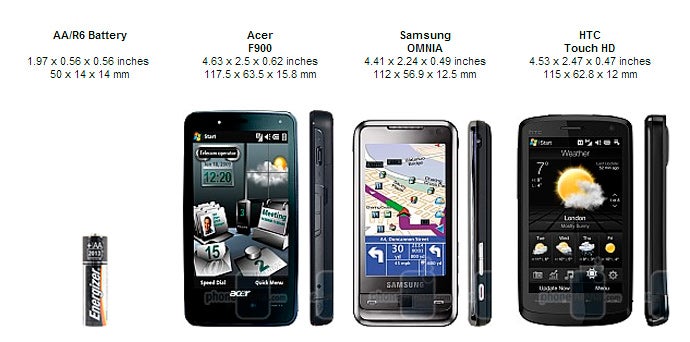 You can compare the
Acer F900
with many other phones using our
Size Visualization Tool.
There are
four touch sensitive keys
below the screen that glow in blue and the phone gives pronounced vibration feedback when you press any of them. Their functions are (right to left) – send, start menu, OK/X and end key and we can say the lack of hardware buttons on the front side does contribute to a more simple, elegant overall look.
The handy volume rocker is on the
right hand side
and it can also be used to scroll up and down the phone menus. There is a small button to activate on-screen selection, nestled between the two buttons of the volume rocker. Both the microSD slot and camera shutter are here as well. The latter has good travel and feels easy to press. The comfy power on/off button and the miniUSB port are on the
opposite side
of the device.
Acer F900 360 Degrees View: