Acer DX900 Review
2

Introduction and design:
Have you ever felt like being on two price plans at the same time? Say, you can use one of the lines for work and another one to communicate with your family and friends. Sounds great plus you can save on some cash, but there´s this tiny hitch here - you need to bring along a pair of cell phones and this might be pretty annoying especially if you´re into tight clothes. Well, there´s one other solution available (nothing is impossible as they say) and it is getting a dual-SIM cell phone. A growing variety of less known, Chinese cell phone producers have been coming up with such models, but none of the leading manufacturers, except for Samsung, has taken onto the task. Eten also jumped on the bandwagon with the
DX900, the first Windows Mobile based, dual-SIM card device
that was, until recently, available in but a few countries.
On taking over Eten, the computer giant Acer has put its logo onto the DX900 and started to sell it worldwide. It features similar specs like the
V900
that we´ve already reviewed, except for digital TV support. Actually, both devices look quite alike and in other words…
It is huge and quite heavy, but this is characteristic of almost all Windows Mobile devices. Anyway, just bear in mind you better wear a belt before you tuck the phone into your pocket… unless you are eager to find yourself walking in your briefs of course. The device lacks the round edges of the V900 that would´ve made it more appealing and less appalling. This is a cell phone designed with work in mind and it sticks out a mile. What else is there in the package?
Ear-phones
miniUSB PC link cable
A spare stylus
A slip cover
Software CD
CD with electronic copy of the manual
Manual
Wall charger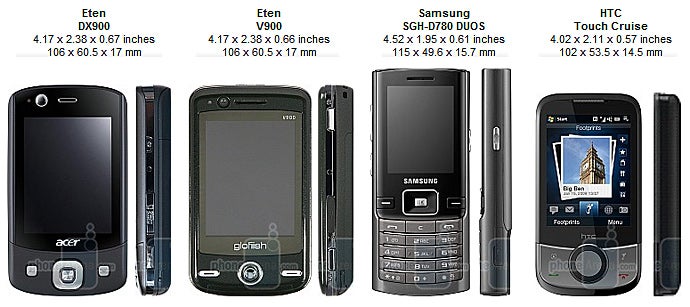 You can compare the Acer DX900 with many other phones using our
Size Visualization Tool
.
We´re slightly disappointed to say at the least with the screen size of only
2.8 inches
, especially given its large and bulky overall look, but at least it comes with VGA resolution and this is a good thing. Unfortunately direct sunlight renders screen virtually unusable, despite the light intensity sensor located above the display and right next to the video-call camera. Send and end buttons are relatively small, but both have a good travel and are fairly easy to use, unlike the D-Pad that feels really rigid and uncomfortable. Thankfully, the touch sensitive screen allows you to keep using the phone before you get sore fingers. You better get used to the stylus that fits into a conveniently located slot on you right, onto the bottom side of the phone.
The microSD memory card slot is found right above the stylus and as you can see in the pictures, there´s a tiny plastic cap to cover it that, at least on our sample, failed to fit well into its place. The camera shutter and on/off buttons are quite handy and both have a nice travel. The same goes for the buttons on its
left
hand side – sound rocker and voice dial activator. We just wish we knew why they´re that small. There´s also a 2.5 mm. jack right next to them.
Well, that´s all about the cell phone in a nutshell. There is nothing to bring down the house about this phone, aside from the dual-SIM card slot underneath the battery.
Only the right-hand SIM slot allows use of a 3G card
and due to certain software peculiarities, you better plug the SIM card that you´d be using for most of the talks in there. Hm, what are these, exactly? Let´s break it down for you.
Recommended Stories