HTC to shut its Watch streaming service down in a number of markets come May 31
6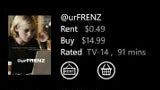 All things come to an end some day, and it looks like that day is coming for HTC's Watch service. For those who don't remember, Watch is HTC's movie streaming service that comes pre-loaded on the manufacturer's smartphones. Unfortunately, not too many people seem to be using it, so HTC is looking to optimize its expenses and, as a result, will be shutting the service down in a number of markets come May 31.
HTC Watch will continue to exist in those markets where it's being used more heavily, but users in Denmark, Italy, the Netherlands, Norway, Spain and Sweden better start preparing for the grand closing of the service.
As we continue to deliver new content for HTC Watch, we've made the decision to focus our efforts on markets with the highest engagement. After May 31, we'll discontinue support for HTC Watch in countries with less application traffic.
Has any of our readers used HTC Watch?
via:
Engadget