HTC sues Apple over patent infringement
76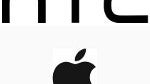 It seems to be getting way out of hand now with all of the back and forth lawsuits being filed between cell phone manufacturers, as this time HTC is going after Apple claiming they infringed on 3 of their patents.
HTC just filed the lawsuit with the U.S. District Court of Delaware. We aren't sure what the 3 patents that Apple is being accused of infringing upon are, but we know that they
have to do with the iPhone
, the
iPad
and
Mac computers
. According to Reuters, HTC is even seeking triple damages for what HTC is calling willful infringement. HTC is also said to be seeking compensatory damages.
It was just last month that Apple won their latest case against HTC when the Taiwanese based manufacturer was
found guilty of infringing upon 2 of their patents
; a verdict that HTC has already said
will be appealed
.
While these lawsuits may be getting out of hand, this is what happens with big time companies who are in a fight for global supremacy. This most certainly will not be the last time that a lawsuit is filed between the two giants. Tell us what you think in the comments below.
source:
Reuters