HTC will appeal the ITC ruling that it infringes on two Apple patents, final verdict expected by December 6th
16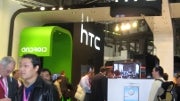 HTC's CFO, who yesterday said that they are
willing to negotiate with Apple
, is not attacking this from just one side. Today he said that HTC is also determined to appeal the 7/15 ITC ruling that it has infringed on two Apple patents with its Android handsets.
"
We are going to appeal. We are confident that we have a strong case,
" said Winston Yung. Either Apple didn't bite the "let's sit down and talk it out" idea, or HTC is exploring all venues to remedy this in its favor.
The preliminary ruling of the administrative judge now has to be upheld or reversed by the whole commission. If upheld, Apple asks for a ban of HTC products in the US, which is a highly unlikely scenario. HTC is waiting for the final decision and documents supporting it, so it can examine them and prepare its defense for the appeal. A final verdict is expected by December 6.
The Taiwanese
acquired S3 Graphics for $300 million
, after it became known that Apple is infringing on two of its patents, as a protective move, so not all opportunities for the whole thing to fizzle are exhausted.
source:
Reuters
Recommended Stories