HTC reports strong earnings for Q3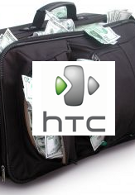 From an unknown contract manufacturer of cell phones to one of the leaders in handset production, it has been quite a ride for HTC. And according to the latest report, business continues to be booming for the Taiwan based firm. For the third quarter, HTC reported profits of $360 million on $2.459 billion in revenue. The profit figure beat analyst's expectations by a hefty 50% and nearly doubled last year's earnings.
The vault figures to continue to get stuffed with cash as the company has a well received lineup of Android models expected to be launched before the holiday season.
"Investors are comfortable with HTC's status in the Androidmarket," said Steven Tseng, an analyst at RBS in Taipei. Tseng added, "HTCwill keep a stable position, even if it is not a leader in thesector." Besides riding on the success of Android, in November HTC plans on launching some models powered by Microsoft's new Windows Phone 7 operating system.

source: Reuters