HTC One X teardown reveals quad-core internals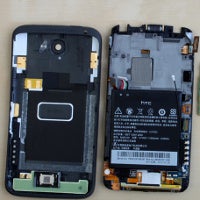 The HTC One X aims to hit the right balance between good looks and cutting
edge
hardware, but there's one thing that might bother you even more - its repairability. Turns out, the unibody One X is not all that hard to disassemble, but it takes knowing the way its built. And why would you want to be able to disassemble it? First of all, in a couple of years you might want to change the battery, second, you might need to repair some parts, and third you might just like to look what's inside of your phone.
Chinese folks over from PCOnline tore down the One X and just like the Lumia 800/900, the unibody comes off by first removing the screen, not the back cover. You can then take a look at the Super LCD 2 display, or peek inside and check out the motherboard, the battery and all other internals. The HTC One X in its international version is powered by an Nvidia Tegra 3 quad-core chip.
Take a look at the teardown pictures below and hit the source link below to see what's the easiest way to open up the One X.