HTC Flyer up for pre-order in Germany, Galaxy Tab 10.1 coming to Europe in March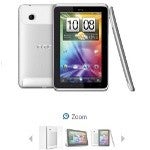 The HTC Flyer tablet took a special spotin our hearts with its unique HTC Sense skinned Android experience and activestylus support. Well, this kind of unique experience will cost you nearly $690 (500euro), a hefty price for the small 7-inch tablet. If you don't mindthe price tag, German online retailer Cyberport is now ready to takeyour pre-orders. Interestingly, the Flyer, which is expected withAndroid Froyo, is listed to run Android 2.4 Gingerbread. Whatever theinitial version is, HTC promised to upgrade the 7-inch slate toHoneycomb some time in the future.
Samsung's Galaxy Tab 10.1 might not beas innovative as the HTC Flyer, but with its 10.1 inches of screen estate it will catch theeye. The Tab 10.1 will arrive in March for Vodafone Portugal and weexpect to see it in other marketse around that time or even earlier.The price? Well, folks over in Portugal will have to dish thewhopping $970 (700 euro) for the tablet. In neighbouring Spain, thetablet will run at $480 (350 euro), but to get this price you'll haveto sign a contract. Nothing surprising knowing the price of theMotorola XOOM, right?
source: GSMArena