Motorola XOOM Hands-on
5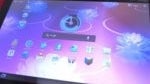 Previously, we managed to get a tasting of the
Motorola XOOM
back at
CES
, and more recently, we dipped our finger ever so carefully with the highly prized device at
MWC
, but now we've got our hands on a final product. Yes, it's finally here, and what a spectacular moment it is. By now, the drool is gone from our mouths since we know all too well the kind of high-tech hardware is hiding underneath its shell, but the beauty of it all is found with Google's tablet optimized platform –
Android 3.0 Honeycomb
.
Although we're not all too impressed with the design of the XOOM, especially when it's on the larger and heavier side of things, we still do appreciate its
premium choice of materials and solid construction
. Coming in with a minimalistic approach, the Motorola XOOM is almost one giant sized slab that's scarce with physical buttons – which isn't bad at all. However, in the short time we've been checking it out, we do notice its rear panel
attracting smudges and fingerprints
. In fact, it requires a substantial rub down with a piece of cloth to get its exterior pristine once again.
In all honesty, the star of the show to capture our attention is none other than finally experiencing Android 3.0 Honeycomb running in all of its glory. At first, we were a little bit overwhelmed because of the new layout it employs, not to mention the updated graphical flare, but after playing around with it for a little bit, we quickly understood the ins and outs of how the platform performs. There's just something hypnotic with the futuristic looking homescreen interface it offers, thanks partly to the new clock widget, but even the wallpaper manages to give off that 3D-like presentation. Naturally, we're excited, but we're putting the tablet through the ropes to fully appreciate its offering. So check back soon for our in-depth review!