HTC Desire Eye vs Apple iPhone 6 vs LG G3: specs comparison
3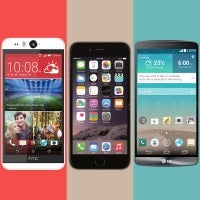 There's only one thing the
HTC Desire Eye
,
Apple iPhone 6 Plus
, and
LG G3
all have in common - they are some of this year's most interesting smartphones. Otherwise, they are pretty different. Here's the HTC Desire Eye - if you look at it as a souped-up HTC One (M8) with a larger screen and much better cameras, it makes plenty of sense. But describing it this way would be so prosaic! This is the first all-out "selfie phone" - one that captures your smiling mug in the glory of a full 13MP resolution photo taken through its front camera. You can print a full-size billboard with your face on it!
The Apple iPhone 6 is still the aluminum-clad charmer the iPhone has been since its fourth generation. Only this time, it's grown bigger and meaner - it has a 64-bit processor and a 4.7-inch display which doesn't seem much compared to Desire Eye's 5.2-inch, or the LG G3's 5.5-inch diagonals, but it's still enough screen real estate to excite every iPhone 5/5s upgrader out there.
And what about the LG G3? The South Korean spec monster won't stop rearing its head anytime soon, thanks to its combination of fast hardware, mind-blowingly sharp 5.5-inch QHD display, and efficient, palm-friendly design. Once you see it, you cannot not remember it. It's one of the best Android phones to have come out this year, and a well-deserved breakout success for LG.
Have you chosen a favorite already? Good! Onto the spec showdown...
Oleophobic coating, Scratch-resistant glass, Ambient light sensor, Proximity sensor
Oleophobic coating, Scratch-resistant glass, Ambient light sensor, Proximity sensor
Ambient light sensor, Proximity sensor
Apple A8
Qualcomm Snapdragon 801 8974-AC
Qualcomm Snapdragon 801
Dual-core, 1400 MHz, Cyclone ARMv8-A 2nd gen., 64-bit
Quad-core, 2500 MHz, Krait 400
PowerVR GX6450
Adreno 330
Yes
128GB, not expandable
32GB
16GB
iOS (12.x, 11.x, 10.x, 9.x, 8.x)
Android (6.0 Marshmallow, 5.1 Lollipop, 5.0 Lollipop, 4.4.2)
Android (5.0 Lollipop, 4.4.4), HTC Sense UI
Qualcomm Quick Charge 2.0
19.00 hours
the

average

is 17 h (996 min)
10.4 days (250 hours)
the

average

is 20 days (472 h)
22.8 days (548 hours)
the

average

is 20 days (472 h)
14.00 hours
the

average

is 19 h (1110 min)
21.00 hours
the

average

is 19 h (1110 min)
20.00 hours
the

average

is 19 h (1110 min)
23.0 days (553 hours)
the

average

is 0 days (0 h)
22.4 days (538 hours)
the

average

is 0 days (0 h)
25.0 days (600 hours)
the

average

is 0 days (0 h)
3G: 10 hours; LTE: 10 hours; Wi-Fi: 11 hours
Single camera
Single camera
Single camera
8 MP (Sapphire crystal lens cover, PDAF, BSI sensor)
13 MP (OIS, Laser autofocus, BSI sensor)
13 MP (Autofocus, BSI sensor)
Aperture size: F2.2; Focal length: 29 mm; Sensor size: 1/3"; Pixel size: 1.5 μm
Aperture size: F2.4; Focal length: 29 mm; Sensor size: 1/3.06"; Pixel size: 1.12 μm
Aperture size: F2.0; Focal length: 28 mm
1920x1080 (Full HD) (60 fps), 1280x720 (HD) (240 fps)
3840x2160 (4K UHD) (30 fps), 1920x1080 (Full HD) (30 fps)
1920x1080 (Full HD)
Time-lapse video, Continuous autofocus, Picture-taking during video recording, EIS, Video calling, Video sharing
OIS
Video calling
1.2 MP
2.1 MP
13 MP
1280x720 (HD)
1920x1080 (Full HD)
1920x1080 (Full HD)
5.44 x 2.64 x 0.27 inches (138.1 x 67 x 6.9 mm)
5.76 x 2.94 x 0.35 inches (146.3 x 74.6 x 8.9 mm)
5.97 x 2.91 x 0.33 inches (151.7 x 73.8 x 8.5)
4.55 oz (129.0 g)
the

average

is 6.5 oz (184 g)
5.26 oz (149.0 g)
the

average

is 6.5 oz (184 g)
5.43 oz (154.0 g)
the

average

is 6.5 oz (184 g)
Back: Aluminum
Back: Plastic