HTC A7373 (possibly the Knight/Shift 4G) set to be launched on January 9, 2011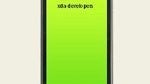 This one is getting seriously interesting. A leaked screenshot showing projected launch dates for a few Sprint devices tells us that a mysterious handset branded
"HTC A7373"
is set for January 9, 2011 release.
Now, a research points that the
HTC Desire Z
is officially called
"HTC A7373 Desire Z"
in Russia. This leads us to two logical conclusions - first, Sprint has decided to release a spin-off of the HTC Desire Z (T-Mobile already did so with the release of the
G2
and Verizon is about to do the same with the launch of the highly-anticipated
HTC Merge
) and if everything goes according to the plan, we'll see this handset on January 9 next year. However, there is a second, even more interesting possibility - that this is the long-awaited
HTC Shift 4G
, which is actually something of a hybrid between the HTC Desire Z and a small-scale version of the HTC EVO 4G.
Sadly, not enough information and images are available to make a definite conclusion, but January 9 is just around the corner. And it's almost certain that a few more leaks will occur before this phone's actual release, so stay tuned for more info on the subject.
source:
Android Central
via
PhoneDog
and
Nofetel (Russian online shop offering the HTC A7373)