HTC EVO Shift 4G shows up in full glory, running HTC Sense
5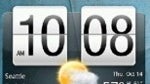 What could be better than a speedy 4G phone? Our guess is – its sequel. And it seems that the HTC EVO 4G, the first device running on Sprint's high-speed WiMAX data network, might get its successor in the face of the HTC EVO Shift 4G. The
EVO Shift 4G
, also known as the HTC Knight/Speedy was not shy in front of the camera and posed on HTCPedia's shop in a variety of cases and in a distinguishable resolution. And while the cases are already up for sale (out of stock now unfortunately), the phone has not yet arrived.
Judging from the newly leaked pictures, the device will feature the familiar HTC Sense interface and information about a smaller screen points to a more compact version of the HTC EVO 4G. The HTC EVO Shift 4G is also expected to carry Sprint's logo and run on its blazing fast WiMAX network, but the screen comes at 3.7 inches, down from the 4.3 inches on the HTC EVO 4G. Other rumored details include a slide-out QWERTY keyboard and a
front facing
rear
camera with single LED flash. (thanks, skymitch89)
The EVO Shift 4G appeared
first on the XDA Developers community
with a single blurry picture and has spurred
a lot of talk
since then. The handset is rumored to hit shelves on January 6th, so if you are waiting for a 4G phone that would better fit your pocket, the wait could only be a month.
source:
HTCPedia
via
Engadget