HQ Trivia is teaming up with "The Voice" for a $50,000 jackpot Monday night
4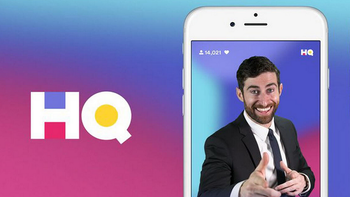 If you have been boning up on your useless trivia, you might want to give HQ Trivia a visit this Monday night.
The daily online trivia game show
is holding a special event on May 14th at 11:30pm with a $50,000 jackpot up for grabs. Besides the cash, one winner will also receive a trip for two to Los Angeles to see the season finale for "The Voice" on May 21st. And NBC's singing competition also plays a part in HQ Trivia's special event.
During this Monday's telecast of "The Voice," which airs from 8pm to 10pm ET/PT on NBC, HQ Trivia host Scott Rogowsky will appear on the show to give out hints about the questions that will be asked later Monday evening during the HQ special event. Those left standing after answering all 12 trivia questions will split the $50,000, and one winner will be selected for the trip to "The Voice" finals.
As you probably know by now, HQ Trivia is accessed by downloading the appropriate iOS or Android app, and there are two games on weekdays (3pm EDT and 9pm EDT) with one game on Saturday and another on Sunday (9pm EDT). 12 questions are asked and players continue to play until they answer a question incorrectly, or all 12 questions have been asked. Those not eliminated split the night's jackpot and if there are no winners, that night's jackpot carries over to the next game.
"We are thrilled to be at the forefront of such an innovative and interactive television-gaming experience that will give our fans the opportunity to win a huge prize by simply watching the show. We can't wait to bring the HQ 'Voice' game to our fans and have the winner join us at the finale!"-Audrey Morrissey, executive producer, The Voice
If you'd like the opportunity to win some money, and see "The Voice" finale in person, you can install HQ Trivia now by clicking on the appropriate link: (
iOS
|
Android
)
source:
NBC