HP spills the beans on an upcoming TouchPad OTA update
8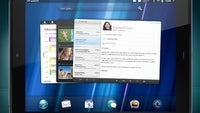 Boy, it seems like that HP TouchPad is not yet ready to bite the dust even though the manufacturer decided to pull the plug on its webOS-powered hardware. What makes us think that way? Well, it is not only the fact that the device has been selling like hot cakes after its price got slashed down to $99, but also the news that
an OTA software update for the TouchPad is very likely baking in HP's kitchen right now
.
It was an HP spokesperson that spilled the beans on the update after replying to an email query sent by CNET. Reportedly, the new software is meant to "enhance the platform and add functionality" to the device. Unfortunately, there were no details given in regards to what goodies the update will contain. Its release time frame was not disclosed either.
However, even though the said update is yet to be released, there is a handy feature that HP TouchPad owners can get today.
Quickoffice HD for webOS has been updated to support document editing
, thanks to which Word documents and Excel spreadsheets can now be modified on a TouchPad. Furthermore, the application brings a handful of formatting options such as changing font type, color and size, underlining, as well as adding functions to spreadsheet cells.
What kind of functionality do you think that the HP TouchPad lacks and should be included in the software update? Feel free to share your thoughts by dropping a comment below.