HP TouchPad Review
8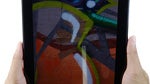 Introduction:
Feeling the depths of oblivion, it seemed as though all of Palm's hard work with webOS was going nowhere fast as their mobile platform wasn't adopted by consumers compared to the competition, but lucky for them, HP swooped down and rescued them from a possible premature death. Reinvigorated and backed by an almost insurmountable amount of cash flow, HP is now calling the shots and taking webOS to new levels that Palm only dreamt about in its sleep. In fact, it was only back in February when the world was first introduced to the next level of webOS devices – with one of them being none other than the
HP TouchPad
.
Nearly five months have passed by, and the world is finally getting its taste of the very first webOS 3.0 tablet in the HP TouchPad – but more importantly, some are curious to know how it stands against some of the titans in the market. Luckily, it flaunts that oh-so lovely price point of $500 for the base 16GB Wi-Fi only model, and knowing that it's packing equally impressive specs under the hood, it should undoubtedly prove itself as a competitor. However, knowing that the bar has been set in terms of what consumers expect out of tablets, it's going to need to excel from head to toe in order to have a piece of the pie at dessert.
The package contains:
HP TouchPad
microUSB cable
Wall Charger
Get Started Guide
micro-fiber cleaning cloth
Terms & Conditions of Services
Design:
Let's be honest here, but the very first thing to come to mind when looking and holding the TouchPad, is the fact that it reminds us of a super-sized
iPhone 3G
/
3GS
– mainly because of its black plastic exterior and placement of buttons. Rather than sporting some sort of flashy industrial design, the TouchPad's conventional look is seemingly cutthroat and doesn't try to impress. Instead, it's constructed out of this glossy piano black plastic, which looks wickedly polished out of the box, but it scarily attracts fingerprints and smudges like no other. At the same time, it's larger (0.54" thick) and surprisingly heavier (26.10 oz) than some of its rivals – though, it makes us wonder since it sounds hollow after a quick tap on the back. Nevertheless, it's not going to win any awards in the design department, but it's comfortable to hold thanks to its curved rear – while feeling solidly built for the most part.

Boasting a
9.7" IPS display
with an aspect ratio of 4:3, which is the same one in use with the iPad 2, it actually sports the same resolution as well at 768 x 1024 pixels. More than detailed enough to make out fine text, there are no problems with its clarity, but its low brightness output makes it difficult to view in outdoor settings with the sun present. As for color production, it's admirable with its natural tones and doesn't appear to be overly saturated – while retaining its vibrancy thanks to its great viewing angles. All in all, it's indeed a nice looking display, but doesn't deliver the luminance that's seen with other displays – like the ones on the iPad 2 and Galaxy Tab 10.1
Holding it in portrait, there's a flat looking
physical button
beneath the display that minimizes all the cards and brings up the launcher bar – and at the same time, it even acts as the notifications light as well. When emails, messages, or social networking notifications are received, the LED light inside of it will glow indicating that something is waiting for our attention.
Meanwhile, the
only camera
found on the entire thing is the
1.3-megapixel front-facing
one placed above the display. Even though HP means business with the TouchPad, it still would've been nice to see a rear camera to give users that added functionality.
With two
speakers
lining the left side of the tablet, it naturally offers stereo support, while the tablet's clicky feeling
volume rocker
is placed towards the upper right edge. Interestingly, there's a narrow
oval shaped cutout
that actually tucks away the tablet's serial information towards the bottom corner on the right edge. We suspect this to be the SIM card slot for future iterations of the tablet sporting cellular connectivity.
Along the
top edge
of the tablet, we find its 3.5mm headset jack, microphone, and small, but tactile feeling power button. Conversely, the only thing found on the
bottom side
is a microUSB port used for data and charging connectivity. Sadly though, we're again presented with the gleaming issue that it lacks yet another feature that's commonly found with tablets nowadays – like video-out via an HDMI-out port of some sort.
Finally, the
rear plastic casing
is completely bare except for the distinguishable HP logo and smaller brandings towards the bottom area. Much like some of its contemporaries, there's no easy access to its internal 6,300 mAh battery – meaning, you'll need to send it away for service.
Recommended Stories