HP Slate 21 is a 21.5" Android 'tablet' all-in-one powered by Tegra 4
10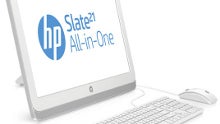 Android's potential to run on anything larger than 10" has rarely been exploited, but the newly-announced
HP Slate 21
aims to remedy that and really takes us by surprise. As you can guess, the all-in-one/"tablet" hybrid sports a large 21.5" touchscreen display.
The desktop/tablet combo runs on a fast
Tegra 4
chipset, and sports Android 4.2 out of the box, with a kickstand on the back when you want to use it in its desktop reincarnation - at 21.5" we assume this will be most of the time, but board games around the bonfire aren't out of the question either with this thing.
Slate 21 was unveiled in Beijing, so the press release below is a rough translation from Chinese, but seemingly the IPS display is with
1920x1080 Full HD resolution
, and DTS surround sound speakers are present. HP says there will be more details on the exact specs and pricing when the Slate 21 hybrid gets introduced at each country, but at least we are sure that Microsoft's licensing fee for Windows RT won't be in the price, which should already mean a more affordable device for those who might need it.
HP released a new PC era new strategy for consumer products

June 24, 2013, Beijing, China - Today, Hewlett-Packard in Beijing held a two-day world tour events. In which "I era, a new experience," HP consumer PC era new product strategy conference, HP printing and Information Products Group (PPS) official in the domestic consumer products released a new strategy, new product forms that were smart ten o'clock touch experience, as well as an optional three aspects of multiple operating systems, to provide consumers with innovative value consumer computer products.
Meanwhile, HP is also officially released in the event including the new detachable type notebook computers, tablet PCs, laptops and one computer and other rich products can provide consumers with a new cool experience.
"New" form of portable performance two have both
In the consumer computer products, HP also announced the Android platform an integrated computer-based products - HP Slate 21.The sleek appearance of snow Baiying one computer products, equipped with NVIDIA Tegra 4 mobile processor, has a strong entertainment functions, a consumer can not be changed after the home through the large size full HD touch screen Android experience the world of regret. It is equipped with 21.5 inches (diagonal) wide viewing angle IPS Full HD display that supports intelligent ten-point touch functionality. Combined with built-in dual speakers DTS Digital Theater Systems, can give consumers the best audio visual experience, but also facilitate the sharing of exciting content with friends and family(2).And it provides HP TrueVision HD Webcam camera and Wireless Direct wireless printing technology, to ensure that consumers do not need internet connection to be shared between devices on different videos, photos and data(4).
Software, it also uses the Android 4.2.2 operating system, with consumers existing mobile phone and tablet ecosystem seamless. Especially in connection with the same based on the Android operating system for mobile phones, flat products connections, including access to the same screen display, convenient connections richer applications. Meanwhile, HP Slate21also has an excellent multi-tasking performance, can enjoy the music while access to exciting online content(1).
In addition to the above products with new features outside, HP is also updated in the event of its high-performance entertainment notebook HP ENVY 14/15 and other merchandise. They not only uses HP's new design ID, while also providing a fourth generation, including Intel Core Duo processor, including the new hardware configuration and other products together with HP, together with HP's innovative technology, to create more for consumers value.
Recommended Stories