HDMI adapters for your iPhone 4 and iPad come courtesy of NOOSY and Sanwa
3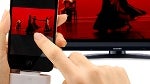 Ok, now that the rogue VLC media player is
available
in the App Store, what's next for movie aficionados, who want to take advantage of the added versatility? Well, output those movies to the biggest screen in the house, of course, your huge HDTV. Apple's
iPhone 4
and
iPad
don't have an HDMI-out port, but they are able to run HD video, so it's just more opportunities for third party accessory-makers. Or, alternatively, you can just get a
Nokia N8
, or a
Motorola Droid X
- we kid, we kid.
Sanwa
has an HDMI adapter on sale in Japan for $73, and if you want something more readily available, the Chinese
NOOSY
has already crept onto American soil, with a price tag of $69.99. NOOSY's contraption does not support movies purchased from iTunes, or protected with Apple's Fairplay scheme, and it also doesn't output your Safari screen (same with Sanwa, we guess). However, the Chinese adapter also supports iPod touch 4G, whereas the Japanese gizmo works only with the iPhone 4 and the iPad. There are other non-official solutions out there, such as the
Wolverine
module, sold for $59.99 on Amazon, and the main complaint is that they don't charge the battery, so one or two movies, and you are done.
We know, we know, we'd rather prefer wireless streaming too, but that's surely not going to cost you sixty or seventy bucks, so you'd better get one of those thin HDMI cables under the carpet, and call it a day.
source:
NOOSY
&
Akihabara