VLC accuses Apple of infringement
5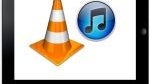 VLC only recently debuted for iOS devices, but there's already some conflict with Apple. VideoLAN, the creators of VLC, have informed Apple that their DRM (Digital Rights Management) requirements constitute infringement of the VLC app's GPL (General Public License).
As VLC is
open source
, the software's sharing shouldn't be hindered. Apple's iTunes, however, limits the VLC app's sharing to 5 devices. No, this isn't a real issue. How many people need to share between 5 different iOS devices?
Rémi Denis-Courmont, a developer of VLC, explained that "while the rules for distribution of open-source or "free" (as in speech) software are extremely relaxed, they do exist and have to be abode by." Denis-Courmont went on to suggest that users "look for [the] application on more open mobile platforms for the time being."
The fact is that the DRM of
Apple
violates VLC's original license. Apple will likely take down the app, as they did with GNU Go, a chess app that was also the subject of infringement. It is far simpler for Apple to quietly remove the app than fight to maintain it under a new DRM.
source:
MacStories
via
IntoMobile