Google's data-managing app Datally gains two useful features in latest update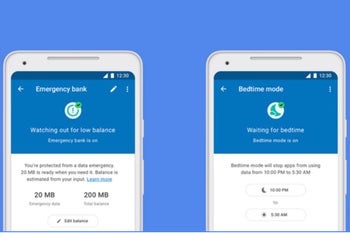 Google has just announced that its data-managing application,
Datally is getting a major update
that brings two more options for users to save and manage their data.
The first one is called "emergency bank" and allows Datally users to save some of the user's data so that they have it protected for later just in case they need it. For example, you can enter your balance and how much data you want to save for emergencies, and the app will automatically block all the apps that are using data once you reach your emergency data allowance.
The second new feature introduced today is "bedtime mode," which basically turns off all of your phone's data usage at night. You'll need to choose your bedtime and wake up time, and the app will make sure that the
data usage
is turned off during that time.
Both emergency bank and bedtime mode features are available to all Datally users starting today, but you'll have to install the latest version of the app to benefit from these improvements.