Google updates its Datally app with several new features
1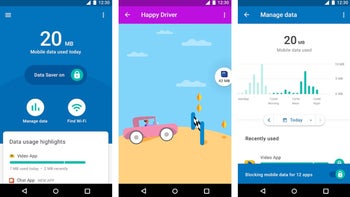 In the land of
unlimited data
, there are still some who need to manage and keep a close eye on their usage. Some users may not have a plan with such
luxuries
and others may be trying to avoid having their bandwidth throttled. Either way with over 10 million downloads, Google's Datally app is bound to be useful and these new updates are sure to please. The app already allows users to easily see their data usage not just as a whole, but on an app to app basis as well.
Google
claims users can save up to 30 percent on data through the controls it offers. The app also provides notifications to help a user who may not keep such a close eye on things and it even assists you with finding Wi-Fi. Four new features have been added in a recent update.
New Features
One of the new features allows a user to detect and uninstall unused apps that continue to burn up data in the background. Another added option is called Daily Limit, which allows a user to cap the mobile data they want to use on a given day. This is similar to the third new feature called Guest Mode. This allows you to set passwords and limit mobile data when someone else is using your device. This particular mode could be invaluable for parents who hand their children a device during a car trip. Finally, the Wi-Fi detector has seen some improvements. This feature now presents you with a hotspot map detailing the available hotspots near your location. The hotspots are also able to be rated by fellow users so you can find the best speeds. Sure, some phones offer these capabilities in some fashion, but Google wraps it all up in a nice package and it is there for those who need it.