Google sits Microsoft down with a sassy line after its latest Scroogled campaign
47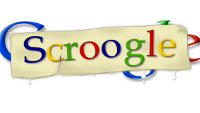 Take a seat, Microsoft, this one goes to Google. In case you're a tad confused, we're referring to
the latest Scroogled campaign
that Redmond started, which has the software giant selling... t-shirts and mugs.
Of course, these are not your ordinary mugs, they're actually a continuation of Microsoft's long-standing effort to discredit the search giant, by trying to assert that Google is selling off people's online activity and data. A banter needs two, and Google obviously isn't about to let this one slide. A spokesperson for the company commented that:
"
Microsoft's latest venture comes as no surprise: competition in the wearables space really is heating up
."
A witty joke or not, it does return us into the reality of the day – Microsoft and Google are battling it out on a number of fields, and of these is smartphones. There's actually some evidence that would, at the very least, suggest that Google, for example, is not exactly playing nice either, and intentionally tries to slow Windows Phone down in a number of ways. Though, whether that should surprise you at all, is an entirely different topic altogether.