Google posts Android Training online courses
10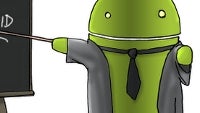 Ever wanted to start
developing on Android
? Google has just launched its online Android university - Android Training classes will guide through Android Developing 101 to the heights of app coding, so you really have no excuse not to try. The classes will educate you on best coding practices and include plenty of samples which you can use, but that's just the beginning - Google promises to expand the program continuously.
"We're starting small and this is just the beginning for Android Training. Over the coming months we will be increasing the number of classes available, as well as introducing over-arching courses and sample apps to further help your development experience,"
the Android Dev team said.
Since the online courses address
"common Android development problems"
we have to specify which are those exactly - they range from optimizing battery life to having effective navigation. There are
11 sections with 34 lessons
, so feel free to start exploring and coding now.