Google Search APK hints at upcoming option to have notes "sent from your computer"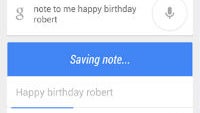 As much as Google wants to add functionality and make Google Search/Now better on your mobile device, Google also wants to create a more seamless experience for users as they move from a traditional PC to their mobile device and back. The latest evidence of that aim is found in the code from the new Google Search APK.
The code-hounds over at
Android Police
have found evidence in the Google Search APK code that references an option to receive a note sent from your computer. There are a few strings regarding the feature, which looks like it will give the option to either save or copy the received note. Those two options will be available directly in the notification tray, and will function as you would expect - the save button will send the note to your note-taking app of choice, and the copy button will send the text to the clipboard.
The only thing that isn't clear is where these notes are being sent from exactly. It is possible that Google is putting together a Chrome extension to handle the sending, or maybe just updating the existing Chrome to Mobile extension that can send webpage links to your device. It is also possible that this will go through either Gmail, or even Google Search itself. We'll have to wait and see.