Google removes Play Movies & TV app from select platforms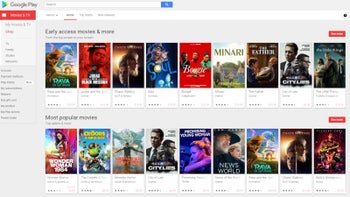 Google
is making changes to its apps and services all the time. Some get discontinued or replaced with newer ones, while the luckier ones are getting upgraded and put on even more platforms.
Google Play Movies & TV went through a lot of changes
recently and the most recent one involves specific platforms like smart TVs and Roku.
The search giant quietly
updated the app's support page
to reflect an important new change: Google Play Movies & TV will no longer be available on Samsung, LG, and Vizio smart TVs. On top of that, Roku users won't be able to use the app either starting June 15.
The good news is those using any of the devices mentioned will still be able to access all the features typically provided by the standalone Google Play Movies & TV app. However, instead of opening the soon to be demised Play Movies & TV app, they will just have to log in with their Google account in the YouTube app to access all their past purchases, as well as browse, purchase, and rent new content.
It's important to add though that while Play Family Library purchases will be shown in the YouTube app, purchases made on YouTube won't support family sharing. On the other hand, all purchases made from Google Play Movies & TV website or app will continue to support family sharing.